Today's consumers are most likely to interact with brands via social networks. So, what does this mean for brand websites?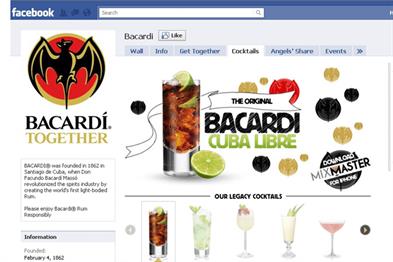 Bacardi's decision to move away from campaign websites to focus its digital strategy on social networks (Marketing, 26 January) may seem bold. However, it poses a question to all marketers: do expensive brand websites have a role in the age of social media?
Faced with declining numbers of visitors to its brand sites – according to comScore, Bacardi's unique visitor numbers fell 77% between 2009 and 2010 – it is understood that the company will be shifting up to 90% of its digital spend to its presence on Facebook in the next one to two years.
Bacardi may be one of the first companies to re-examine the role of its websites, but it will not be the last. As Ian Crocombe, planning director at digital agency AKQA, says, if some brands deleted their corporate website, it would make little difference to their level of brand recognition online.
'Corporate sites made sense in web 1.0, when you drove traffic to landing pages with banners, and collected email addresses,' he says. 'Modern consumers are engaged by real-time, social digital experiences which transcend device and are powered by location.'
Forward-thinking brands, such as Nike (an AKQA client), have already made this leap, he adds. Nike Football realigned its digital marketing two years ago and focused on delivering real-time experiences. For the 2010 World Cup, it built a platform where it could engage with 4.6m football fans and delivered exclusive content.
Honda also re-assessed the role of brand websites two years ago when it redesigned its systems architecture to centralise all sales and marketing information on one site.
Ian Armstrong, Honda manager for European communications, says: 'Traditionally, each new campaign had a microsite with relevant content. You end up replicating some level of functionality. The opportunity was to construct content in a way that's more modular and shareable across multiple platforms.'
Given the nature of car purchases, information-rich websites will remain vital. People want a place where they can come where the content is trusted, says Armstrong.
However, social networks have a huge role to play in car purchases, too. 'People have conversations about cars and the network has a view that influences the purchase decision,' he adds.
Graham Hodge, branded content director at digital agency LBi, says that within budgetary constraints, marketers should not perceive an 'either-or' situation. 'There is certainly plenty of life in brand websites, especially if you enjoy a transactional relationship with your customers,' he adds. 'However, it is naive to invest a lot of money in a destination website and not support it with activity that engages audiences out there, where they spend the bulk of their time online.
'Each approach has its strengths. Social sites have huge traffic; and well-thought-out branded content that fuels conversations can be a great way to recruit people into a brand. Meanwhile, a brand-owned property like a website can offer a more immersive experience for brand loyalists.'
Dangers of relinquishing control
As a warning of the risks that exist in the push toward social media, Hodge cites the example of confectionery brand Skittles, which decided to scrap its website in 2009 and replace it with a page that aggregated social-media mentions. It backfired when people realised they could post abusive material.
The brand reconfigured its approach, but has maintained a social element, encouraging users to submit images and video. Ian Tweedale, senior marketing manager for Skittles owner Wrigley, says social media now provides a key platform through which to engage with consumers. 'It facilitates a two-way conversation and enables consumers to create their own ways of communicating,' he adds. 'The 14m fans of the Skittles Facebook page offers us a constant audience to deliver our messages to, and the result is more-regular and richer communication.'
Skittles' experience of user-generated content highlights the danger of a headlong rush to be social. Rather than a multitude of brands ditching their websites for Facebook pages, YouTube channels and Twitter feeds, the future is likely to engender platforms combining to offer a more complete picture of the brand experience.
Brands need to understand how and why their consumers will engage with these channels before deciding which strategy to take.
OPINION – THE VIEW FROM DIAGEO
– Bryony Stickells, Head of digital, Diageo
You have to start with the consumer, who they are, where they engage with a brand and what they want to engage with. Then consider what channels suit the brand. Gordon's drinkers, for example, are less confident with social media than people who enjoy Smirnoff.
Social spaces have their uses in hosting community-based conversations, but they are not so good for hosting rich content. For that, the consumer would expect to go to a brand website.
However, the days of lavish £200,000 websites are over. What will emerge will be content that is more interactive and richer, which is what consumers expect. Rather than being mere repositories for information, websites will connect to social networks and platforms.
Websites remain important. They allow you to represent the brand in the way you want. This is not the case with social media or apps, as their set formats reduce brands' creative licence.
Baileys launched a Facebook page before Christmas for its target audience of women in their mid 20s to 30s who are really up for conversations.
In future, it will be about how to encourage regular and quick chats and reward loyalty via the relationship programme.
This article was first published on marketingmagazine.co.uk by Stuart Derrick, 02 February 2011, 12:00AM